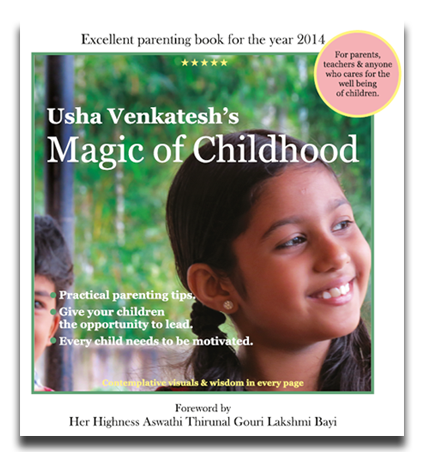 The Magic of Childhood
I was born into a family and a generation that believed that it is a curse to not have a boy in the family. In spite of this I enjoyed every bit of being a woman right from my childhood. Bearing my 2 children in my womb was probably the most precious experience in life. I loved every moment of my pregnancy. I enjoyed their movements and wished pregnancy was more than nine months. I fondly recall every moment of their childhood , the excitement of their milestones and the joy of watching them grow. This bond that I built with my children I believe is strong enough to keep them connected to me for eternity.
Coming back to why I thought about writing a book. A lot has changed about the perspective of parenting among young couples these days. I noticed people neglecting the precious joy of parenting ,out of their sheer ignorance. I saw young parents under pressure to balance their profession and parenthood. Materialistic gifts replaced the touch and company of parents for children. Crèches replaced the warmth of houses and priorities shifted from family pressures to just surviving in this competitive world.
I have been closely associated with children for the past 25 years and have noticed the changing attitude towards parenting by their young parents. The book "Magic of Childhood" is my attempt to reach out to people and help them cherish and enjoy parenting . Each page of this book has gifts of wisdom that I believe will transform you outlook towards children and parenting.
---